NOTE:  It has been pointed out to me that during my website transition to the new revised site that a few of my blog posts got lost–or they never arrived as planned.  So I am reposting a few posts just in case.  Thanks in advance for understanding.  As always, please feel free to comment or to send me an email.  Feedback and dialogue are welcome!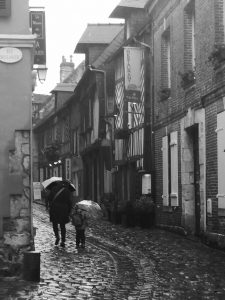 In September, my husband and I took a trip of a lifetime to France.  I said in a previous blog post that I would share what I learned.  Since sage-ing and positive aging is an area of focus, I kept thinking on our trip about how other people spend their time, money, and energy and how we might want to live the next phase of life.  So here is more what we learned and discovered about traveling.
While we were about a decade younger than most of the 100 passengers on the river cruise, we learned a lot from their experiences.  As "newbies," we asked many questions trying to learn from their life experiences.  We learned that Grand Circle Travel also has a company called Overseas Adventure Travel.  We met many people who had used this company to travel because of the smaller size which is limited to 16 and with a local program director.  We were told these trips attract a younger audience and are more active.
At one dinner, we were asked what we thought of the river cruise.  We raved about the focus on learning, the excellent French food, and the outstanding service, but we said it was almost too structured sometimes and that we would appreciate a little more free time.  This couple said, "If you want to travel, but you don't want a tour–are you familiar with untour.com?"  We said we were not familiar with this company.  So they explained it to us.
A few nights later, we were eating dinner with another couple who told us they rented an apartment in Paris for a week before the river cruise.  When we asked about how they did this, they asked us:  "Do you know about the company untour.com?"  We explained how we had just learned about it a few days ago.  I asked each of these couples:
Why not just use airbnb?
Or I asked why not just find a place yourself online?  We found a great villa in Tuscany with three other couples four years ago just searching online.  I concluded we might have lucked out because you are never quite sure what you are getting.
These two couples said almost the same thing independently.  If language or safety is an issue Untour.com may be the answer.  As the name implies, it is not a tour but there are some advantages.  Someone from Untour.com will pick you up at the airport and get you to their property you have rented.  If you want a rental car, they will have rented it in advance.  They set you up with some local food and they will take you to the airport at the end if desired.  In fact, they will even make airplane reservations. For everyone renting property in the area, Untour.com has an orientation meeting with a local director to answer questions and give advice.  So a local contact to answer any and all specific questions adds value rather than having to figure that out by yourself–wasting time and energy when you are on vacation.
We discovered Grand Circle Travel will make airline reservations also and we did not use them.  We thought we were going to use some of our points and that did not work out.  From the other people we talked to on the cruise who have experience and have priced around, using Grand Circle Travel to make airline reservations is a good deal and we might utilize that service in the future.
So these are some travel tips that we discovered on our adventure.  Traveling while you can is one way to positively age.  Seeing new vistas, getting yourself out of your comfort zone, meeting new people, trying new things (i.e. food, customs,) all help put life in perspective.  You can become more compassionate, creative, and interesting by traveling and you don't have to travel far.  Even getting out of your own neighborhood can stimulate your thinking.
Since I am still processing our trip, I will continue to share insights and discoveries.
Learn something new every day.
What have you learned today?