I have been thinking a lot about rituals and why they are important.  In previous posts, I have shared why building community is one of the most essential tasks for a leader. This post is written for people who want to build a sense of stronger community within their workplace and/or within their family.
Lately I have been thinking about the value of rituals.  A week ago, I went to my college roommate's retirement party in Wilmington, Delaware.  She and two colleagues started the law firm about 30 years ago and it has tripled in size and is one of the most respected firms for insurance law.  In fact, I was so impressed with her accomplishments that a few years ago I nominated her for an alumni award which she received from our alma mater.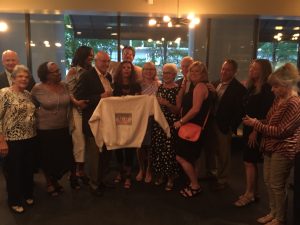 It was a nice evening event held in a quaint restaurant.  Three people were planned to speak and one of the former lawyers who came from out of town jumped up and set off a chain reaction of speakers.  My friend was surprised by the attention and commented how it "felt like a funeral with so many people saying such nice things."  She was so deserving of the recognition and I could tell she appreciated the kind words.
I reminded her that retirement is an ending–similar to a death.  While there is life after one's main career, many things are ending and are losses–even when they are of our own choosing:  social circle, work relationships, patterns, responsibilities.  I am a big believer in retirement parties to celebrate one's legacy and to help one to move onto something else.  Graduation at any level serves the same purpose.  Even after being in higher education for 30 years and attending commencement ceremonies annually, I always appreciated the role it served for students, faculty, and staff in letting go in order to move on in life.
Then I watched in its entirety John McCain's funeral and the rituals involved with that.  Since it was said McCain planned the service down to the details (speakers, music, scripture, readings), it reflected him and his wishes.  While his death was not a surprise given his diagnosis, I found the service to be comforting and helpful.  It made me think about the value of rituals.
In past blog posts, I have shared how research says people are lonelier than in the past.  We have fewer people we trust and on whom we can depend.  Many people don't know their neighbors and put privacy fences up to create barriers.  Good neighbors are often thought to be those who don't bother us.
If these generalizations are true, building community in the workplace is an important role for leaders and rituals are part of that.  As many families are now spread out, rituals become harder but are even more important.
In courses and workshops, this is a topic I stress because it also was a theme that emerged in the research for my book Leading with Wisdom:  Sage Advice from 100 Experts.  A ritual is a pattern that can be formal or informal, but it plays a role in helping us predict and explain behavior.  Rituals give us something to look forward to and the anticipation is helpful.  I often ask participants to give me examples of rituals and they often say:  birthdays, anniversaries, graduations … I ask who has a birthday in the next week or month.  Then I ask them, "What if we don't celebrate your birthday?  What if we celebrate it next month?"  No.  They would prefer to celebrate it on the day if possible.
Rituals encourage anticipation, excitement, and hope.
After this Q and A, I read a selection from "The Little Prince" by Antoine de Saint-Exopery:
It was then that the fox appeared.
"Good morning," said the fox.
"Good morning," the little prince responded politely, although when he turned around he saw nothing.
"I am right here," the voice said, "under the apple tree."
"Who are you?" asked the little prince, and added, "You are very pretty to look at."
"I am a fox," the fox said.
"Come and play with me," proposed the little prince. "I am so unhappy."
"I cannot play with you," the fox said. "I am not tamed."
"Ah! Please excuse me," said the little prince.
But, after some thought, he added:
"What does that mean–'tame'?"
"You do not live here," said the fox. "What is it that you are looking for?"
"I am looking for men," said the little prince. "What does that mean–'tame'?"
"Men," said the fox. "They have guns, and they hunt. It is very disturbing. They also raise chickens. These are their only interests. Are you looking for chickens?"
"No," said the little prince. "I am looking for friends. What does that mean–'tame'?"
"It is an act too often neglected," said the fox. It means to establish ties."
"'To establish ties'?"
"Just that," said the fox. "To me, you are still nothing more than a little boy who is just like a hundred thousand other little boys. And I have no need of you. And you, on your part, have no need of me. To you, I am nothing more than a fox like a hundred thousand other foxes. But if you tame me, then we shall need each other. To me, you will be unique in all the world. To you, I shall be unique in all the world . . ."
"I am beginning to understand," said the little prince. "There is a flower . . . I think that she has tamed me . . ."
"It is possible," said the fox. "On the Earth one sees all sorts of things."
"Oh, but this is not on the Earth!" said the little prince.
The fox seemed perplexed, and very curious.
"On another planet?"
"Yes."
"Are there hunters on that planet?""
No."
"Ah, that is interesting! Are there chickens?"
"No."
"Nothing is perfect," sighed the fox.
But he came back to his idea.
"My life is very monotonous," the fox said. "I hunt chickens; men hunt me. All the chickens are just alike, and all the men are just alike. And, in consequence, I am a little bored. But if you tame me, it will be as if the sun came to shine on my life. I shall know the sound of a step that will be different from all the others. Other steps send me hurrying back underneath the ground. Yours will call me, like music, out of my burrow. And then look: you see the grain-
fields down yonder? I do not eat bread. Wheat is of no use to me. The wheat fields have nothing to say to me. And that is sad. But you have hair that is the color of gold. Think how wonderful that will be when you have tamed me! The grain, which is also golden, will bring me back the thought of you. And I shall love to listen to the wind in the wheat . . ."
The fox gazed at the little prince, for a long time.
"Please–tame me!" he said.
"I want to, very much," the little prince replied. "But I have not much time. I have friends to discover, and a great many things to understand."
"One only understands the things that one tames," said the fox. "Men have no more time to understand anything. They buy things all ready made at the shops. But there is no shop anywhere where one can buy friendship, and so men have no friends any more. If you want a friend, tame me . . ."
"What must I do, to tame you?" asked the little prince.
"You must be very patient," replied the fox. "First you will sit down at a little distance from me–like that–in the grass. I shall look at you out of the corner of my eye, and you will say nothing. Words are the source of misunderstandings. But you will sit a little closer to me, every day . . ."
The next day the little prince came back.
"It would have been better to come back at the same hour," said the fox. "If, for example, you come at four o'clock in the afternoon, then at three o'clock I shall begin to be happy. I shall feel happier and happier as the hour advances. At four o'clock, I shall already be worrying and jumping about. I shall show you how happy I am! But if you come at just any time, I shall never know at what hour my heart is to be ready to greet you . . . One must observe the proper rites . . ."
"What is a rite?" asked the little prince.
"Those also are actions too often neglected," said the fox. "They are what make one day different from other days, one hour from other hours. There is a rite, for example, among my hunters. Every Thursday they dance with the village girls. So Thursday is a wonderful day for me! I can take a walk as far as the vineyards. But if the hunters danced at just any time, every day would be like every other day, and I should never have any vacation at all." 
What rituals (rites, ties, traditions) do you have in your workplace?
Should you be creating more?  If so, what?  
What about family rituals?  
How would you feel if no one celebrated your birthday?