Since attending the Sage-ing International Conference in October, I have been blogging about what I learned, who I met, and sharing what I think people need to know to become a Sage.  This post is another example of what it feels like to be in the presence of Sages.  If you want to become a Sage and not just age, this post is for you.  If you want to be an elder and not just elderly, you need to read this post.  
For the past few years, my husband and I have been taking advantage of live music coming to town.  There is a wonderful old theater, Hoyt Sherman Place (seats about 1200) that is about 10 minutes from our home.  It has a great auditorium and bands of old have been making the rounds.  We have seen America, Peter Frampton, Jackson Browne, Kris Kristofferson, David Crosby, Winona Judd, Three Dog Night, Gordon Lightfoot, Todd Rundgren, to mention a few.  Almost all of the performers comment on how much they love playing at Hoyt Sherman.  The acoustics seem almost perfect.
We are often surprised by some and disappointed by a few.  But there is a strong theme that runs across the musicians.  Their egos have about disappeared.  They usually comment on how honored they are that people are still willing to pay and come hear them! And many of them share stories about the years with the band, about life on the road, and often advice based on life experience.  Since most of these musicians are in the 70s and even 80s, there is usually not a warm-up band and encores are short!  In fact, many of them do not even leave the stage.  They just start playing the encore.
Last week we were in the presence of two Sages:  Peter Yarrow and Paul Stookey of the well known group Peter, Paul, and Mary.  Even though Mary died in 2009, they mentioned her several times and said they felt her spirit was still with them.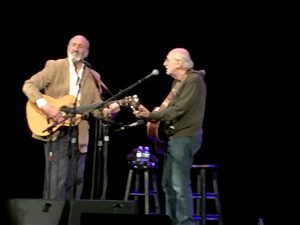 Peter and Paul have been performing together since the 1960s and their folk songs are often politically focused.  So their politics are not a secret and people who attend their concerts are well aware of this.  But their focus during this concert was on something I think most people would agree.
We need to be kind to one another.  We can disagree with one another without hating each other.  We need to protect the planet and care about how we treat each other in the process.  
They understand as conscious elders that one important role in life is to leave the world a better place and we can do this through activism.  In fact, I wrote an article about being a conscious elder who cares service beyond the self.
The audience was engaged and singing along with most of their famous songs.  Clearly many people were moved by their remarks.  It was ironic and almost sad that the words of their songs are still relevant.  It reminded me of how I used to tell students in my diversity course (which I taught for 25 years), "I hope there is a day when this course is no longer needed."  Now I feel the course is needed more than ever–which makes me sad.
At one point Paul got choked up talking about the condition of the planet.  Since Peter is Jewish, he got emotional talking about the rise in hate crimes particularly the mass shooting in the Pittsburgh synagogue.  I think it is fair to say that people did not want to leave when the concert was over.  It was as if we were in the company of old friends.
How do I know when I am in the presence of Sages?
I don't want the time to end.  I know I can learn from their life experience.  I can feel the wisdom that I want them to share with me.  Their age is irrelevant.  They are kind, generous, compassionate, and so much more.
Who are the Sages in your life?  My advice is to spend as much time as you can with them.
P.S.  When I was in high school, I was in a church singing group and we would sing 'Blowin in the Wind.'  I decided at that time that I wanted 'Blowin in the Wind' to be sung at my funeral.  And I still do.