This is a follow up to my last blog post about the power of language.  A new life stage has emerged and we don't know what to call it.  Read this to learn if you are a middlescent.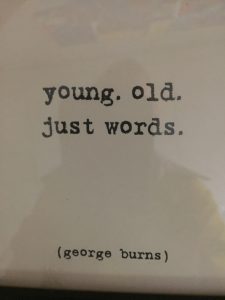 According to the U.S. Census Bureau, the number of Americans who will live into their nineties is anticipated to quadruple by 2050.  If you are 45, you may have half of your life ahead of you.  My mom lived to be 93 and my dad is now 94.  He reminds me he has NOT worked longer than he worked!
But for most people, the life extension of 30 years is not at the end of life.  It is in the middle, yet we don't know what to call it:  third act, third chapter, next phase, second half of life, encore, …
Barbara Waxman is determined to re-brand midlife.  "No previous generation has experienced the luxury of extended vitality through midlife."  She calls it Middlescence.  "Its a new life stage for those in midlife, one that takes into account demographic realities of an evolving world, and rejects toxic norms of the past." 
Waxman says it is time to shift the paradigm and to change our thinking about aging and I could not agree more.  According to her book "The Middlescence Manifesto," Waxman's mission is to "catalyze a national conversation; to offer the tools for middlescence to thrive, to benefit themselves, their families, communities, and the world."
In her book, Waxman explains something I did not know.  We have created new life stages in the past.  Adolescence was identified and named in 1904 by G. Stanley Hall because of changes in our culture.  When most children lived on farms, they went straight from childhood into adult roles.  But as policies changed and children went to school longer, adolescence was created to help this group transition into adulthood.  Waxman maintains we need a similar stage for midlife and I totally agree.
Waxman says we need to think of middlescence as a second adolescence for these reasons:
Our bodies are changing and hormones are shifting.
Relationships may be shifting too (empty-nesters, divorcees, caregivers, newlyweds again).
We question our place in the world.  We are no longer young, but we are not old! 
Our sense of self and our identity needs to be revisited and revised.
Click here to listen to Waxman describe the life phase in which many of us are now living.  I interviewed Waxman for my monthly podcast series called Becoming a Sage.  Within the next few months, I will be posting her interview.
How do you feel about your current age and stage of life?
Do you let your age define you?
What is your thinking about aging in our society?  
Are you a middlescent?