Being aware of the legacy you are leaving can make you a better person–a more effective leader.  What legacy are you leaving?  How do you know?  Read this to learn more.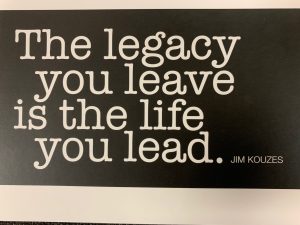 As a certified Sage-ing Leader through Sage-ing International, I learned the significance of what we call "legacy work."  Thinking about the difference we are making in the world (legacy work) can make us better people and more effective leaders.  Legacy work is one of the main components of becoming a sage –consciously aging in a graceful way.
I weave legacy work into leadership workshops and courses.  Our legacy can be positive or negative and we are leaving it behind daily.  When we are aware of our impact as leaders, we can be more intentional about the decisions we make, how we communicate, and how we influence others.
Based on all I have learned, I created the Breadcrumb Legacy concept.  We are leaving our "crumbs" behind daily–small acts that say something about us in a big way.  The trail tends to accumulate.  In fact, I was sharing this concept in one of my Beyond the Money (Beyond The Money) workshops last week.  It was the day Cokie Roberts of NPR and ABC died of complications from breast cancer.
People in the news industry (radio and television) tend to become part of the family if you are loyal and listen to particular people.  I was a Cokie fan and her voice was so distinctive.  In her long distinguished career, Cokie interviewed world leaders, had a political network to the moon and back, and was so professionally accomplished and respected.  But what caught my attention were the words shared by her dear NPR friend and colleague Nina Totenberg.  This is how Totenberg started her remembrance of Cokie:
"Our newsroom is in tears. My phone and my email are bursting with more tears. The country has lost a great journalist, but I and so many thousands of others have lost a great friend – yes, thousands of others. Cokie was the embodiment of our better angels, whether it was her work for Save the Children or the millions of kindnesses, large and small, that she dispensed daily without ever thinking that what she was doing was unusual or remarkable …"
This is a great example of a Breadcrumb Legacy.  While Cokie had major achievements and was somewhat of a celebrity, it is the little things that Totenberg commented on first. It was the "large and small, that she dispensed daily without ever thinking that what she was doing was unusual or remarkable …"
What are the breadcrumbs you are leaving?  
If you were more aware of the "trail" you were leaving behind, how might that change your behavior?  
Another one of her friends shared this Cokie quote that stuck with me at this phase in my life:  "Your kids are only little once.  Your parents are only old once.  Be there for them."
We can all learn a lot from how Cokie Roberts lived her life.