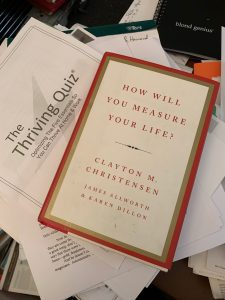 This week the world lost a management scholar, guru, and sage Clayton Christensen who died January 24th.  A professor at Harvard Business School, he was named in 2011 the world's most influential business thinker in a biennial ranking conducted by Thinkers50.  He had a couple of near-death experiences (NDEs) which caused him to be reflective and introspective.
In 2010, Christensen gave a powerful graduation speech to the Harvard Business School class.  It was so popular it was published in the Harvard Business Review.  Using his business background in teaching and practice, he provided guidelines for finding meaning and happiness in life.  An outcome of this speech became a book titled How Will You Measure Your Life?  
The speech is organized around three main questions.  From the article:
"On the last day of class, I ask my students to turn those theoretical lenses on themselves, to find cogent answers to three questions: First, how can I be sure that I'll be happy in my career? Second, how can I be sure that my relationships with my spouse and my family become an enduring source of happiness? Third, how can I be sure I'll stay out of jail? Though the last question sounds lighthearted, it's not. Two of the 32 people in my Rhodes scholar class spent time in jail. Jeff Skilling of Enron fame was a classmate of mine at HBS. These were good guys—but something in their lives sent them off in the wrong direction."
Christensen spends the rest of the speech answering these three questions using business examples and insights gleaned from his wide range of experiences.  He emphasizes the need to:
Create a strategy for your life
Allocate your resources
Create a culture
Avoid the "marginal costs" mistake
Remember the importance of humility
Choose the right yardstick
The article is worth reading and the book is an expanded version with even more specifics about how to measure your life.  In my opinion, the conclusion is extremely powerful:
"Think about the metric by which your life will be judged, and make a resolution to live every day so that in the end, your life will be judged a success … Don't worry about the level of individual prominence you have achieved.  Worry about the individuals you have helped become better people."
How will you measure your life?
How are you measuring your life?
What is your metric?
Thank you, Clayton Christensen, for sharing your wisdom with us.  Your legacy will live on for generations.