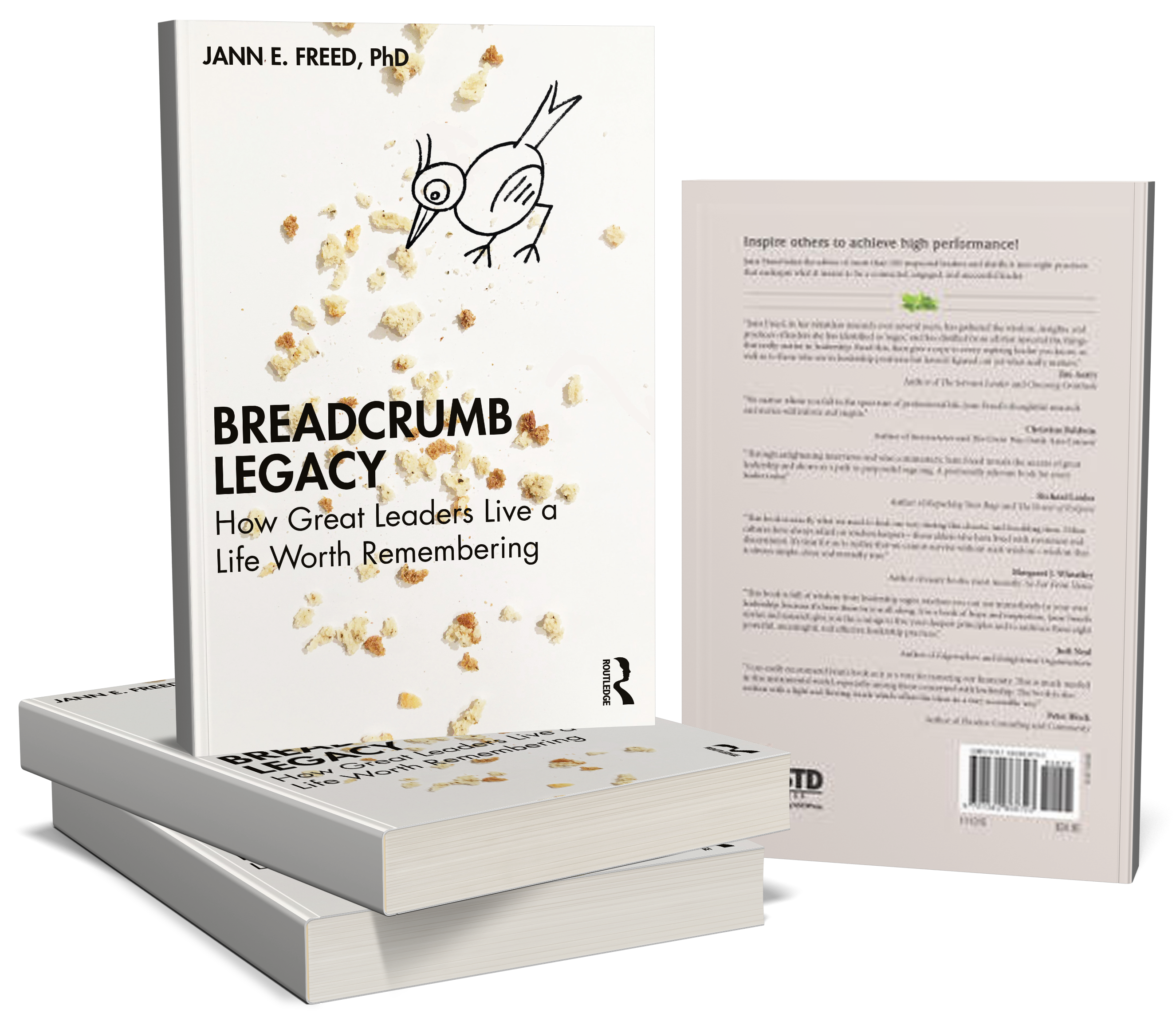 ---
How Great Leaders Live a Life Worth Remembering
---
ORDER NOW
ORDER ON AMAZON
"Leaving a personal legacy has become top of mind for people of all ages, as we all have faced mortality over the last several years. Jann Freed has developed a bold new approach to your legacy that will serve as a compass as we seek our True North."
BILL GEORGE
Author of True North, Emerging
Leader Edition, Executive Fellow, Harvard Business School and former CEO, Medtronic
"What on earth are you here for? Few students of leadership and life have thought as long and deeply about this question and the power of living a purposeful life as Jann Freed. Her book offers a perfect blend of wisdom and daily small practices to live a life, ultimately, worth your precious time on earth. It's an inspiring read that could change your life."
RICHARD LEIDER
International bestselling Author, The Power of Purpose, Repacking Your Bags, and Who Do You Want to Be When You Grow Old?
"Living one's best life is a 'long game' and our actions accumulate. But as Jann Freed shows, building our legacy happens every day. We have the power to choose wisely, live intentionally, and use legacy as our guiding light."
DORIE CLARK
Wall Street Journal Bestselling Author of The Long Game and executive education faculty at
Duke University's Fuqua School of Business
HOW DO YOU WANT TO BE REMEMBERED?
---
Legacy is a common topic these days, but usually later in life. Jann advocates instead that we think of legacy as the impact we have as a result of daily small actions—breadcrumbs. Adopting this mindset can make us better people and more effective leaders. Breadcrumb Legacy is about is about how to live a life worth remembering.
How can learning to be a better person make you a better leader?

How can you live with meaning and on purpose?

Why is it important to embrace death in order to live fully?

Why are relationships the key to living a meaningful life?

How to make friends as an adult?
---
Breadcrumb Legacy provides answers to these questions and others, so you can:
---
Live with meaning and on purpose.

Live a life worth remembering.
---
Since the themes are universal and everlasting, Breadcrumb Legacy will have a long shelf life because it can change how you live your life every day.
---
Legacy is not for later. Live your legacy now.
---
---
Jann E. Freed, PhD, is Professor of Business Management Emerita at Central College and the Mark and Kay De Cook Endowed Chair in Leadership and Character Development. She is also an adjunct professor for the University of Iowa.
As a leadership development coach, consultant, author, facilitator, and speaker, Jann helps organizations improve employee engagement, navigate change management, and develop leaders of all ages and career stages.
She has written or co-written five books, given two popular TEDx talks, and is a Certified Sage-ing Leader through Sage-ing International. Jann also hosts the podcast series Becoming a Sage, where she interviews thought leaders about wisdom in work and in life.
Jann's personal mission is to continue to learn and share what she's learning with others. As a wisdom seeker, she often says that she likes teaching, but is passionate about learning. This book has changed her life.
---