Engage Employees Develop Leaders Find Meaning
By Leaving a Breadcrumb Legacy™

---
Dr. Jann's life mission is to be a seeker and learner who leaves a breadcrumb legacy for herself and others. She does this as an author, consultant, speaker, and faculty member.
Click here for Dr. Jann's Speaker Sheet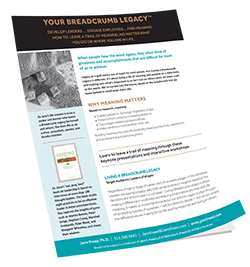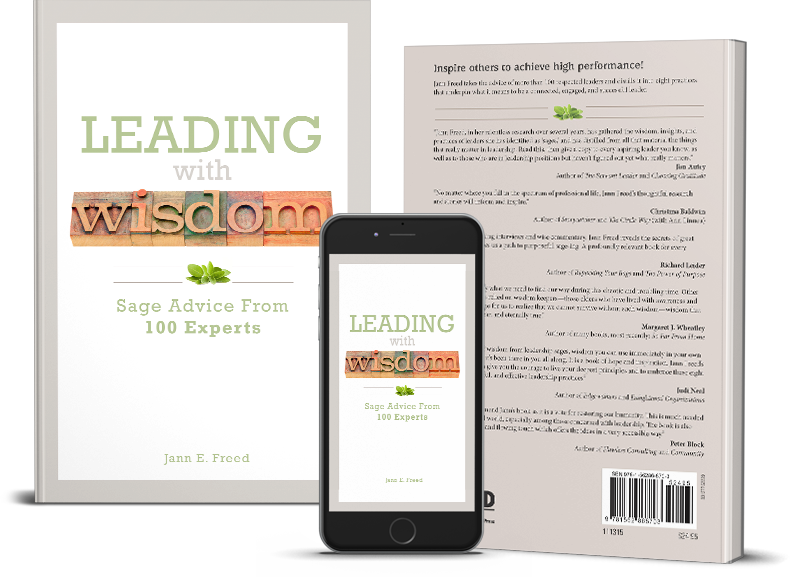 Leading With Wisdom:
Sage Advice From 100 Experts
This book is for anyone in a position of influence in an organization, or those who train these individuals. It's also for those who feel they are drowning in information, but starving for wisdom about what behaviors nurture people, organizations, and communities at large. Discussing her research process with these experts, Jann says, "When I asked about leadership they told me about life."
This book helps leaders integrate the best of themselves and their lives into the tasks and roles of leaders.
BUY NOW
" I left with many fresh ideas about leadership -- like living my legacy and developing an ethical will -- that have already begun to guide me in my own professional leadership journey and personal interactions."

Leisha Barcus l Director, Mercy Comfort Health Center for Women