It seems as if the holiday season comes sooner all of the time with retailers decorating and playing music and all the advertisements involved. The season is full of traditions, rituals, and festivities that set expectations high for both religious and secular activities. The tone is set by the music that is often continuously played during the season:
"Tis the season to be jolly, Fa la la la la, la la la la."
"Love and joy come to you, and to you your wassail too."
"Happy Holiday Happy Holiday. While the merry bells keep ringing, May your   every wish come true."
"Have a holly jolly Christmas, It's the best time of the year."
"It's the most wonderful time of the year!"
While the season is a celebratory one for many of us most of the time, it is not a happy time for everyone. We need to be mindful of this—especially leaders in the workplace. This can be a time when leaders need to demonstrate compassion and understanding. In fact, some churches have been holding services referred to as "Blue Christmas Service" for people who are struggling with the emotions the season stirs up or with their current situation. Anyone experiencing loss and grief might be having a "blue" Christmas.
I think it was Elvis Presley who popularized the song "Blue Christmas:"
"I'll have a Blue Christmas without you.
I'll be so blue thinking about you.
Decorations of red on a green Christmas tree
Won't mean a thing if you're not here with me."
(Words by Jay W. Johnson, PolyGram International Publishing;, Inc., Burbank, CA, 1948)
In the month of September, we lost two friends suddenly. Both men were in their 60s and both collapsed—one at his law firm and one while on vacation in Europe. I also have several friends (and one is too many) who are challenged with illness and fighting with cancer treatment.  A couple of friends are experiencing their long-time marriages crumbling with divorce as a possibility. And I know people who want or need a new job to help them become financially stable. All of these situations involve emotions that can make for the"blues" at this time for them and for those who care for them.
During this holiday season, it is time to have your emotional intelligence antennas up. Pay attention to the emotions all around. Be mindful that not everyone feels as you do. Remember that leaders connect with compassion and empathy.  Leaders should shine light on the workplace  and lift the darkness that may exist.
For more than 40 years, I have been making my holiday cards. Over the years, they tend to reflect what I am thinking or how I am feeling at that time. While they started out as "ornament cards," my friends of other religions tell me they hang them on doorknobs or wherever.  I have good years and not such good years in terms of creativity, but it is a tradition I enjoy and share regardless of the outcome.
So I am closing the year by sharing my card for this year. In this photo, you can see the card hanging on my tree.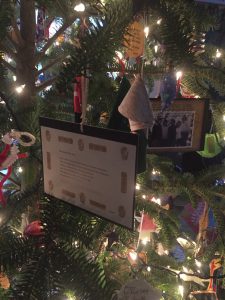 In the second photo below, you can read the message for this year.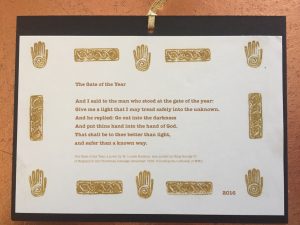 And a special thank you for reading my blog.  Recently, I added a comment feature so please feel free to leave a comment. Your insights would add value to the conversations.  So when the spirit moves you, share what you are thinking.
May 2017 be a safe and healthy one for all of us.
"And say a prayer for the wind, and the water, and the wood, and for those who live there too."  John Denver