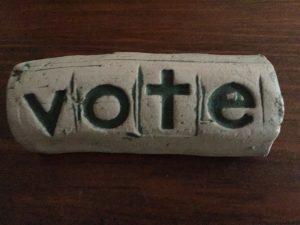 IMPORTANT:  Vote on Tuesday, November 6th until 9PM (Central)
CBS Sunday Morning had two great segments featuring interesting stories about civility, character, and voting.  I encourage you to click on each of the links below.
The first story (link) tells a story of cooperation, collaboration, and working across the aisle.  It is a story about putting people first and not party.  The clip is only three minutes and it will warm your heart and give you hope–at least it does for me.  PLEASE WATCH.
The second story is told by two of our Supreme Court Justices as to why it is important to teach students and to remind adults why civics is critical to maintaining our democracy.  And voting matters.
In the end, only voting matters.  
Why we all need to learn more about civics.
If you have not voted yet (which I have), please VOTE ASAP. 
Every voice has a vote.  USE YOUR VOICE.