In October, I attended the Sage-ing International Conference in Minneapolis.  Since I learned so much about positive aging and living a purposeful life, my next few posts are going to be a series on sage-ing–not aging.  But this first post is dedicated to one of my favorite Sages:  Bob Atchley.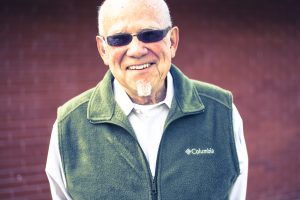 One of the highlights at each conference is listening to Bob Atchley sing his original songs as he plays his guitar.  As a former professor, Bob is good with words and now puts his wise words to music to teach us all about becoming a sage.  Last year, I interviewed Bob for my monthly podcast titled Becoming a Sage.  In case you missed it, you can listen to it by clicking here.
Bob was singing and playing last month in a jamming session with someone playing a harmonica and another man also playing a guitar.  Bob was smiling with his great smile and singing with joy from his whole being.
Two weeks later, Bob had chest pains and two stents were inserted which gave Bob great relief.  For his family and friends in Boulder, they thought he was on the mend and all would be well again.  Then an email went out to Sage-ing International members that Bob had a heart attack in the doctor's office on November 13th and had passed.  This is another reminder that every day is precious.
While I am still in disbelief, I wanted to share some thoughts about Bob because he was a true Sage and had a great impact on me.  I think we connected not only because of our interest in Sage-ing, but because of our careers as college professors and love of higher education.  Since Bob lived a life on purpose and with meaning, we can learn so much from him.  Bob liked to introduce himself by singing the song:  This Little Light of Mine.  I can hear him singing it right now.
One of his dear friends and another wise Sage is Rick Moody (whom I also interviewed for my podcast).  The reflections below are from Rick.
Many knew Bob through his writings. His textbook in gerontology, 
Social Forces and Aging, went into 10 editions, and brought generations of 
students into the field. Bob was a towering intellectual presence, as President 
of the American Society on Aging and co-editor of the Encyclopedia of Aging. 
Those who did not know him personally recognized him as the most distinguished sociologist of retirement.
Others who knew him more intimately understood that his last book, Spirituality and Aging (Johns Hopkins University Press) expressed what was deepest in him: his longstanding engagement with Eastern wisdom and with the Quaker movement. Sage-ing International, the organization inspired 
by Reb Zalman Schachter, with whom Bob was so close, celebrated Bob as one of their "Honored Elders," as indeed he was to so many around the world, whether they knew him personally or not.
About Bob's passing, I can only find words from the great sage
Ramana Maharshi, who spoke from the Vedantic tradition that nourished 
Bob for so many years:
"Find where from thoughts emerge. Then you will abide in the
ever-present inmost Self and be free from the idea of birth or the fear of death…
The question 'Who am I?' is not really meant to get an answer, the
question 'Who am I?' is meant to dissolve the questioner."
On Bob's CDs you can hear songs like "Time Goes Too Fast" and
"Pay Close Attention," and the titles give us a message from his passing.
The day before he died Bob spoke about his current medical crisis and 
said it "makes me more aware of the blessing that is life. As I say in my 
song, The Source, 'an amazing wonder, this life that burns within me, it is 
the Source, the Source of what's to come.' " The sudden shock of losing him 
reminds us all of a message from the Psalms: "Teach us to number our days, 
that we may gain a heart of wisdom."
But I prefer to remember the words of a song from Bob's childhood, 
whose words, Bob said many times, echoed down through all his 80 years:
"This little light of mine, I'm gonna let it shine."
If you really want to know Bob and what he believed, you can read a short article by Bob by clicking here. 
Bob was such an important member of the Sage-ing community that this message was sent out to members.  Remembering Bob Atchley.
Let us all remember to shine light, not darkness on the world.  At Thanksgiving time, let your light shine.
Thank you for reading my blog and sharing it with people who want to become a Sage rather than age–become an elder not elderly.  And remember it is hard to be a good leader if you are not a good person. That requires inner work with a goal of continuing to learn and to grow throughout our life.  This blog is for people who want the rest of life to be the best of life.
I will always remember Bob for how he lived, learned, and shared what he learned with the rest of the Sage-ing community through words and music.  And that great smile of his will live on and on and on …