This post is for leaders in profit and not-for-profit organizations who want to know how to be most effective.  The bottom-line is this:  Leadership is not about you.  It is about what you can build and create as a result of your position and influence.  Use it to build community.  Read on to learn more.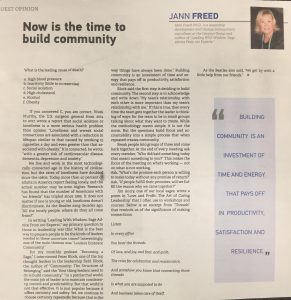 I am fascinated by the fact that we can be more connected than ever as a result of the ever increasing technology and yet so many people feel isolated and lonely.  There is a difference between being alone and feeling lonely.  When leaders understand their main role is to connect people by building community, workplaces can thrive through employee engagement and satisfaction.
Read my recent article in the Business Record–a local publication for leaders–to learn more about why now is the time for leaders to focus on building community.
If people are lonely, what do they really want and need from you as a leader?
Are you providing what they need?  
If not, the time to start is NOW.