This post is written for people who believe in personal development and strive to be the best they can be by learning and growing in the process.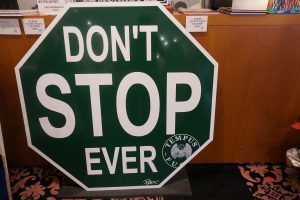 Recently, I was the keynote speaker at a regional Toastmasters conference south of Chicago.  The title of my talk was "Don't Age!  Become a Sage."  Then in the afternoon I conducted an interactive workshop "What Should I Do With The Rest Of My Life?"  But I concluded I learned more from the experience than they did.
Being surrounded by everyone who is a Toastmaster and many were Distinguished Toastmaster Leaders was somewhat intimidating.  These people are serious about becoming great public speakers.  I also learned that this program is just as much about leadership development as improving one's public speaking skills.  And the people were so nice.  Honestly, I can't remember when I have been surrounded by so many people who were kind, generous, and sincerely concerned with everyone's well-being.  They are so used to giving and receiving feedback that one man proceeded to give me some helpful feedback on my talk during lunch.
Continuous quality improvement (CQI) is still a passion.  Since I have written two books and several articles on CQI, I am open to feedback and I welcome it.  I used to tell my students I have CQI in my bloodstream!  The only way organizations improve is when people improve.  Organizations learn when people learn.  These people are committed to continuously getting better at all that they do.
A misperception I had about Toastmasters is that it has a starting and end similar to Dale Carnegie courses.  This is not the case.  I met people who have been in a Club for 2, 20, and even 40 years.  I was told it is the camaraderie and support that keeps them coming back.  In fact, I commented that they like to clap a lot and I was told that it is their main way to show support and enthusiasm.  When someone would go up to present, the audience would clap.  Then they would clap at the end of the presentation.  I have never experienced so much clapping!  My conclusion is that everyone could benefit from this organization.
Several years ago, we had some good friends who earned their MBA from Kellogg Business School at Northwestern University.  After graduation, they both joined a Toastmasters Club and I was surprised they thought they needed it.  But now I understand the value.
For me, it is true:  When I teach, I learn.  Or if you want to learn something, then teach it.  I always said, "I like teaching, but I love learning."  Teaching others is one way to leave your legacy.  It is a way to live on through others.
Don't ever stop learning! 
Quality is personal.  
What do you want to learn? 
What are you curious about now? 
What do you know that you could teach?