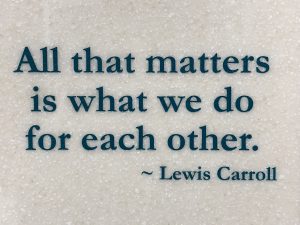 In a previous post, I shared the key to happiness based on research and the book by Sonja Lyubomirsky titled The How of Happiness.
The key to happiness is what she calls "The 40 percent Solution" defined as "40 percent is that part of our happiness that is in our power to change through how we act and how we think, that portion representing the potential for increased lasting happiness that resides in all of us."
Lyubomirsky concluded 40 percent is attributed to our daily intentional activities–what we do in our daily lives and how we think. She explains numerous activities (in detail) that we can engage in during this 40 percent of our time.  Each activity is worth exploring.  While you may do some of these activities now, developing intentional and consistent activities (practices) is the key to happiness.  Some of the activities are already well-known and advocated, but Lyubomirsky is specific about how to integrate them into your life.
The activities fall into categories she calls the Five Hows Behind Sustainable Happiness.
The First How:  Positive Emotion
The Second How:  Optimal Timing and Variety
The Third How:  Social Support
The Fourth How: Motivation, Effort, and Commitment
The Fifth How:  Habit
The 40 percent of our daily intentional activities I refer to as Breadcrumb Legacy™. We often think our legacy happens at the end of life–when we leave.  This has become a focus of my work because Breadcrumb Legacy™ is the essential ingredient in being a good person and effective leader.  But I often ask in workshops and talks: When we leave what? When we die? When we retire?
With Breadcrumb Legacy™, we are leaving our "breadcrumbs" when we leave every conversation, interaction, and meeting.  I am leaving some of my breadcrumbs with you in this blog post.  The key is to be aware of the impact we are having on a daily basis and to remember we leave a legacy whether we know it or not and it can be positive or negative.
In reality, our legacy is made up of small actions, decisions, and behaviors that take place on a daily basis.  I refer to this as Breadcrumb Legacy™ because these small actions add up and accumulate to form our legacy that lasts and lives beyond ourselves.
Now is the time to focus on the 40 percent of our happiness levels by being intentional about what we want people to remember about us on a daily basis at work and at home.  When we are intentional and consistent, each breadcrumb enables us to live a more purposeful life with a positive attitude and a sense of gratitude for our life journey.  Breadcrumb Legacy ™ is about making life meaningful on a daily basis.
What would make you happier than to be remembered as you want to be remembered? 
As said best by leadership guru Jim Kouzes, "The life you lead is the legacy you leave."
Why not start living the way you want to be remembered right now?