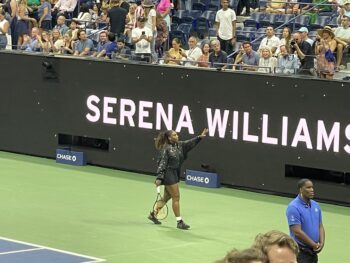 In August, I had the experience of attending the U.S. Open Tennis Tournament. This has been on my husband's bucket list for a long time. We combined it with visiting our son and family so it was a great trip in every way.
We bought tickets months ago and decided to go to the opening night and we might as well get good seats. What we did not know was that Serena Williams would announce her "retirement" and that it might be her last professional tournament appearance!
We got to watch Serena win and every point was exciting. After she won, there was a beautiful video tribute and comments by Billy Jean King among others. The crowd was mesmerized. It reminded me that celebrating the end of a professional career is almost more for the people who will miss the person than for the person leaving. Celebrating in some way helps make for a healthy transition.
If you listen to my podcasts, you know that I am out to retire the word retirement. We are not retiring from life, but moving onto something else. And it takes time and intentional thought to decide what to do next in life.

Serena Williams.
If you read any of the articles about her, watched any of the U.S. Open Tournament, or listened to any of her interviews, you know how Serena did not use the word "retirement." She said she prefers the phrase "evolving away from tennis." This article explains this change in mindset so well.

I don't know if this is true, but I believe Serena developed that phrase and mindset with the help of a therapist. She was open about sharing she sought out a therapist to help her process the timing of leaving and how to gracefully exit competitive tennis–her profession. Serena admitted to doing some "deep soul searching."

What struck me is how Serena was worked hard to control her ego and not let her ego control her. This is hard for most of us to do because our professions provide our identity. If who we are is based on what we do, then it is so hard to walk away.

I also want to acknowledge the graciousness of Ajla Tomljanovic who ended Serena's career in the third round. Someone was going to do it and she was the one.

One sports blog I follow is by Joe Posnanski. From his blog:
"Were you nervous?" Tomljanovic was asked.
"I just thought she would beat me," she responded. "The pressure really wasn't on me. She's Serena. She's the greatest of all time. Period."

People were there –record attendance–to watch Serena and she lost. After Serena left the stadium, it was finally time to let Tomljanovic step up to the microphone. "Well, I'm feeling really sorry," she said, "because I love Serena just as much as you guys do."

Tomljanovic was the champion that night and she was sorry and sad for Serena too. What a humble winner. What a gracious and authentic comment.
I kept thinking how difficult it would be to leave when people are calling you the GOAT–Greatest Of All Time!

The GOAT taught me a lot about how to let go. And Serena had to overcome many obstacles in her career. Last year, the film King Richard reflected the Williams sisters' challenges and their rise to success. (And we won't forget Will Smith's conduct before he won the Oscar for the role as their father).

But do you remember that earlier in Serena's career, even when she was ranked higher than Maria Sharapova –Maria made more money? How do you explain that? You can read about it here. Yes, much of it is based on endorsements and it would be hard to rationalize and accept. This article outlines the details and Serena's thoughtful response.

While it is true that Serena acted out at times and said some things to officials that she regretted, no one is perfect. At the end of her career, I believe Serena modeled how to think about evolving after one's career. I love the word "evolve" because it implies continued growth and moving forward.

Watching Serena made me reflect back on a blog post I wrote for the Modern Elder Academy called "Olympic Gold: Be Careful What You Wish For." I had just watched the documentary titled "The Weight of Gold" narrated by Michael Phelps.

I could not help but think about retirement and life transitions as I watched the documentary. It is about the mental health challenges Olympic athletes face and the lack of support provided.

Basically, the documentary emphasizes how athletes don't know how to transition from training to be an Olympic athlete to living and working as a regular citizen. Even if they are gold medalists, they often struggle. Several of the athletes said, "No one prepared me for life after being an Olympian."

The documentary features stories of athletes who struggled after their success as Olympians.

Freestyle Jeret "Speedy" Peterson was 29 when he killed himself in 2011 less than two years after winning a silver medal.

Australian Olympic cyclist Kelly Catlin won a silver medal at the Games in 2016. She was 23 when she committed suicide in 2019.

Stephen Scherer was only 19 when he competed in shooting at the 2008 Games in Beijing. He took his own life in 2010.

"How many more can we lose?" Phelps said. "It breaks my heart."
The main conclusion of the documentary is that there needs to be resources and a support system in place for Olympians to be successful in moving on.
The stories in the documentary are the opposite of Serena who put intentional thought into what's next in her life. She left is a healthy way and likely learned from those before her.
Serena has resources, a support system, and a plan.
Tom Brady tried retiring and it didn't work. But most athletes not as lucky as Brady. For many reasons, it is hard for athletes to comes back: age, injury, or a team decision.
Athletes have to be competitive to win and Serena admits she is fiercely competitive. The media attention doesn't make leaving any easier because commentators can feed the ego.
Roger Federer, my favorite athlete, just announced his retirement. I hope he receives the recognition he deserves. I will be watching.